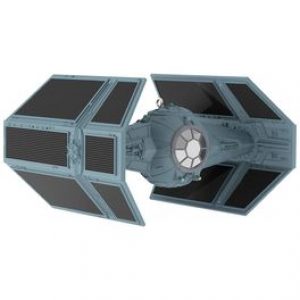 This year, Hallmark has some of the most technologically advanced ornaments ever! They're called Star Wars Storyteller ornaments and every Star Wars fan will want these on their tree this year. For 2017, there are 3 issues, the Death Star, Darth Vader's TIE Fighter, and an X-Wing fighter. Hallmark will release two more in 2018, including the Millennium Falcon. Then, another two will be released in 2019.
Connect them with a Keepsake Power Cord and the ornaments can "talk" to each other to tell a story. And these aren't just short sound clips. The Star Wars Storyteller ornaments will literally play for minutes, but apparently, it's not always the same exact story. There are 127 possible variations from five major moments in "A New Hope" with dialog and accompanying light shows. With all seven ornaments together, you'll get a 9-minute show! We were pretty impressed while checking them out in our local Hallmark store and I'm sure you will be too. If there isn't a Hallmark store near you, check out this video for a taste.
The first of the ornaments are available at Amazon right now and the X-Wing fighter ornament is due in October. If you'd like to see what else Hallmark has in store for 2017, check out the 2017 Hallmark Keepsake ornament checklist we're currently building.
The Making of the Star Wars Storyteller Ornaments
Check out the story of how Hallmark's team did it in the video below.
$33.47
in stock
18 new from $29.95

Amazon.com
Free shipping
$42.95
in stock
16 new from $39.50

Amazon.com
$35.00
in stock
4 new from $35.00

Amazon.com
Free shipping
Last updated on February 16, 2020 4:18 am